Missouri Welding Institute here in Nevada, Missouri, offers the best welding classes for beginners. Our mission is to train our students to have promising and fruitful welding careers. Welding is a great career option. It's in high demand as more people choose desk jobs over the trades. It's challenging and will keep you on your toes. And it's incredibly rewarding as you take pieces of metal and make something beautiful out of them.
We have a lot of students come to our welding trade school who have never welded before. This is both exciting and fun as our top-notch welding instructors have a chance to share their vast knowledge and experience with them. One of the first things we tell beginning welding students is the old adage that practice makes perfect, so we encourage them to weld any chance they get. Below, we've come up with a few of our own simple welding projects for the beginning welding student. Contact our welding trade school today for enrollment information!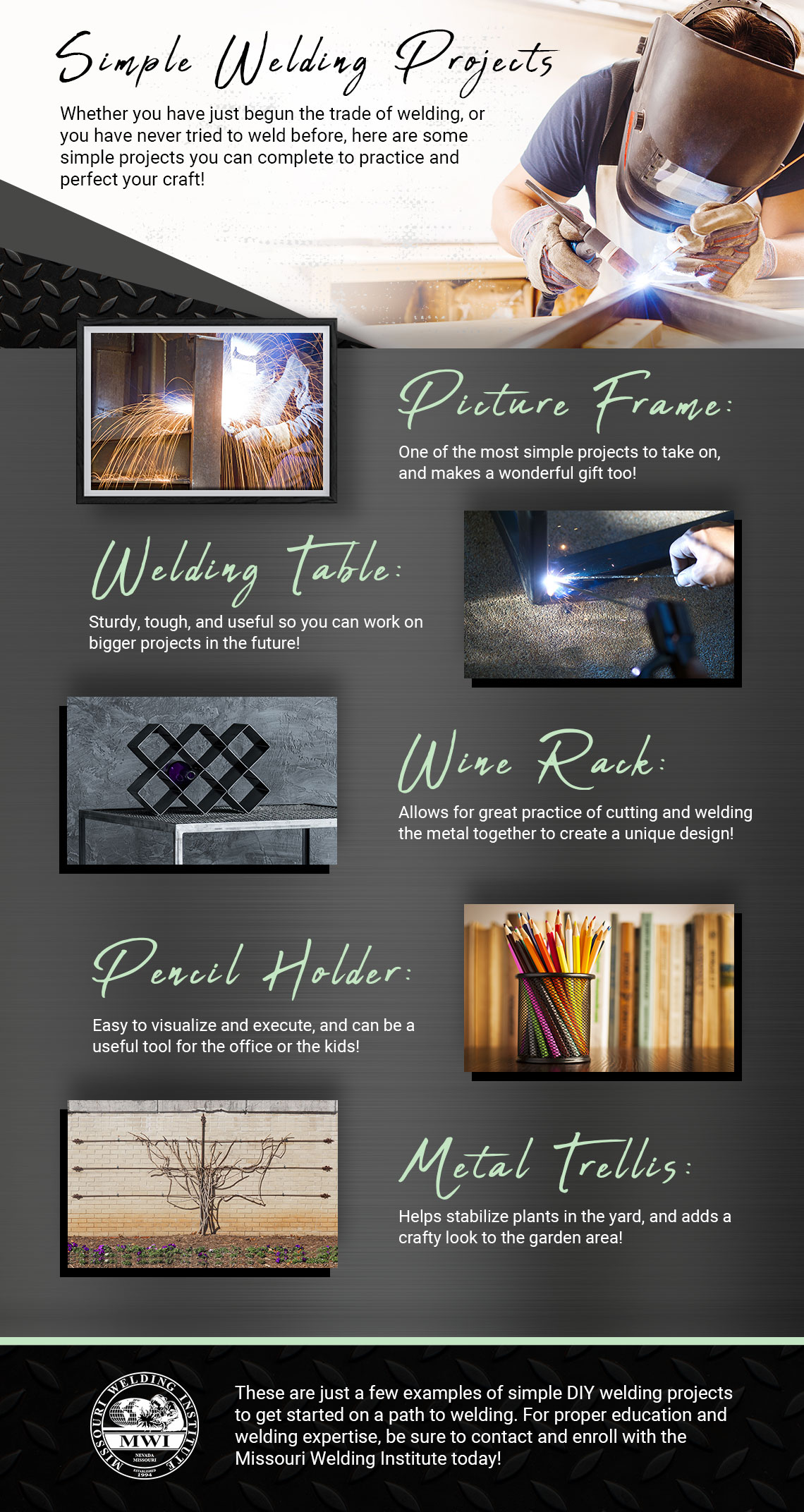 Welding projects for the beginner
Welded Picture Frame
Most people could always use a new picture frame for pictures. If they don't need one, picture frames make excellent gifts for birthdays or for holiday celebrations. They are easy to customize, and if you are feeling ambitious, you can even try to carve initials in the welded picture frame to add a little more personalization to it. Here, the materials you need are minimal. You just need some metal tubing, or some gauge steel, along with our welder.
Wine Rack
Wine lovers are always looking for original gifts to buy because who likes the same old boring wine rack that everyone else has? There are many great things about DIY wine racks. One, it comes from the heart, since you handcrafted it. Two, it's unique, especially if you weld one together (not many people are going to do that). Three, they make great gifts or ornaments for your own home. You can make them simple or you can go all out and add in design elements to truly make it a one-of-a-kind creation.
The great part about welding your own wine rack as a beginning welder is that it requires a lot of precise cutting, which is great for practice. You will just need some metal and a MIG welder. You may want to use a grinder as well to help smooth out the welds once you are finished. Missouri Welding Institute cautions to not worry about how it looks. It may not be perfect, but with each cut you make you are learning — and that's all that truly matters.
Choose the Missouri welding institute as your welding school of choice
The Missouri Welding Institute is located in beautiful Nevada, Missouri. These at-home, simple welding projects will give you great practice as you learn the new skills you'll need to be a great welder in our welding classes. A MIG welder is the best choice as it's easy to learn on, versatile, quick, and clean. You can use other types of welders, such as a stick or TIG welder, but these require more practice and patience than others. In addition, a stick welder may not be the best for your next welding project.
Missouri Welding Project in Nevada offers some of the best welding classes. Our instructors have decades of combined experience that they bring to your welding classes. They love sharing their knowledge of welding with students and are there for you. Our Master Pipe Welding and Fitting and our Master Structural Welding and Fitting Courses are designed to give you the real-world skills you will need. They teach you welding theory, blueprint reading and interpretation, basic trade math and application, welding safety, OSHA 10 Training, and the different welding processes, such as Shielded Metal Arc Welding and Gas Metal Arc Welding. You can also take a custom welding course as well that will help you learn specific skills.
Missouri Welding Institute always puts our students first. Our students are requested by recruiters who know what a high-quality education they are receiving here. Our students have been placed all across the nation and the world. We take job placement seriously here, frequently holding job fairs for our students and helping them with their job search.
At Missouri Welding Institute, we're here for you. Contact our welding school for enrollment information today!